"I Definitely Recommend"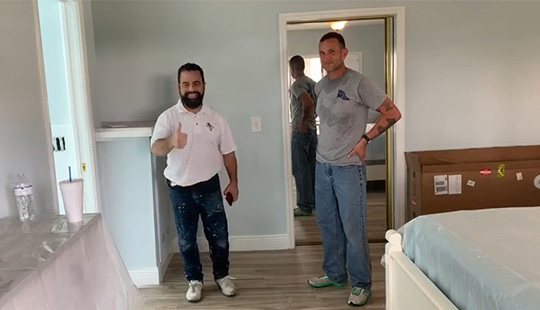 How was your experience?
A very good experience. Very meticulous work, very detailed, the lines are so straight, I've never seen lines like this, and I've seen a lot of grout jobs. It seems like the floor was super, they leveled it out, they put a nice grout on it, and it's really straight, straight through the house.
The baseboard came out fantastic, and it's seamless. You can't even see any of the seams, and they're very fine and real tight. It's really clean work they did. You guys cleaned the area up real nice, outside everything where you were cutting, everything came out really well. Me and my wife, we're saying it's fine, it's really nice. Everyone who comes over, sees it, and it's like, everything looks really nice.
what do you have to say about the bathroom?
The bathroom is beautiful. Where all those detailed cuts and seams are so seamless, seamless design of how it falls straight through, just looks wonderful. It brightened everything up, and the way that everything is level, and all the lines look real nice, and it just really came out nice.
Do you recommend us?
I definitely recommend [you guys]. They come out and do a clean job, and they always make sure they do it right. I think they're definitely worth the investment.
Mr. Aaron
Jupiter, FL